While the government and private networks spread further and further across the popular/industry voting divide, the audiences still like very different programs.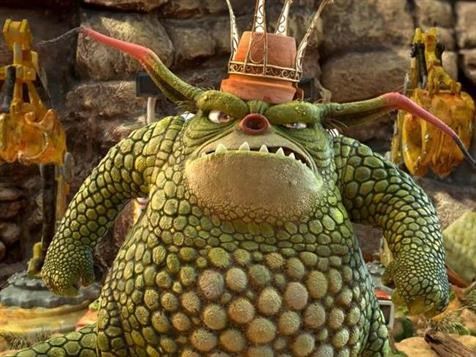 'Oi! 'screamed King, the ugliest Bottersnike of all. 'How come I don't have a nomination for a Gold Logie? I am more beautifuller than Lee Lin Chin.'
We do miss a sense of excitement without some imaginative picks. Image: Bottersnikes and Gumbles, from Cheeky Little Media and Mighty Nice. 
The sacred zone of The Gold Logie has been sullied by controversy. Sooky la la says the editor of TV week in an open letter to all those moaners who object to the lineup. She has a general point as celebrity journalism is very, very sordid, as the recent Melissa George outburst demonstrates. But the public has the right to be a bit bewildered by the fact that five of the six nominees have boy germs while only one, Jessica Marais, is an actual representative of 51% of the population. If that 51% is impossibly thin and dressed in the finest silks woven by computerised ants in climate controlled dens in a special valley in Shangri-La. 
Last year there were three women nominated, two of whom came from national broadcasters. Nobody from Seven was nominated at all. This year, besides the one woman, we have one person from Seven in Samuel Johnson for his work on Molly, while Waleed Ali is back for a second try. Four of the six basically come from Network Ten, with Nine brought in twice, but only in association with other work on Ten and the ABC. That being Rodger Corser for Doctor Doctor and The Doctor Blake Mysteries. Basically the biggest cluster is the boys from Ten.
The figures were warped last year by the remarkable campaign by Lee Lin Chin for SBS. This year she is missing in action, to the despair of anyone who wants actual entertainment in the whole wheezing machine. This set ScreenHub dreaming of a Bottersnike to rule us all. 
The ABC continues to increase its presence, up from 27 last year to 41 for 2017, which it claims is the largest number of nominations ever for any network, though it relies on the industry voted categories, which have only recently found their rhythm and scale. The domination the ABC claims is over the industry and covers categories like comedy and the most sacred land of all, children's television:
Beat Bugs (Seven Network)
Bottersnikes and Gumbles (Seven Network)
Little Lunch: The Nightmare Before Graduation ( ABC ME)
Nowhere Boys: Two Moons Rising (ABC ME)
Tomorrow When the War Began (ABC ME)
Even here, those determined bean counters at Seven nip in for a couple of noms. 
Nonetheless, Auntie claims a populist best actor nom for Richard Roxburgh in Rake, and shared noms for Rodger Corser and Craig McLachlan in Deep Water, Dr Blake and The Wrong Girl. In the best actor category it has Marta Dusseldorp for Jack Irish and Janet King with a side order of A Place to Call Home on Foxtel. Deborah Mailman is also spread around two ABC shows in Cleverman and Jack Irish, along with Offspring on Ten and Wolf Creek on Stan.
The spread in that industry voted outstanding category is interesting. Showcase turns up with Henry Nixon and Elizabeth Debicki in The Kettering Incident in Danielle Cormack in Wentworth. SBS has Yael Stone and Noah Taylor in Deep Water. The ABC runs with Roxburgh in Rake and Marta Dusseldorp in Janet King, while Nine manages Rodger Corser in Doctor Doctor and Jessica Marais in Love Child. No Ten and no Seven. 
Barracuda toughens those ABC figures with Matt Nable and Victoria Haralabidou in outstanding support performer slots and Elias Anton for the newcomer nominations. Again, the best category, the commercial side, doesn't stretch to nominations for support performers. 
Best new talent is dominated by commercial TV with a single half nomination for the ABC. Outstanding newcomer goes the opposite way, with three to the ABC, one to Showcase and one to Seven. 
That divide continues with the production categories. Best drama is completely commercial; outstanding drama is a completely different set, though it contains Seven's A Place to Call Home, the three ABC dramas Rake, The Code and Cleverman, along with Wentworth for Foxtel. So the industry will happily vote for non-government as we would expect, but the popular vote has very different values. 
There is also an outstanding mineries or telemovie category which shows the power of top line commercial TV productions. Though Deep Water is SBS and Barracuda comes from the ABC, Molly is a Seven show,  Secret City and The Kettering Incident were both Foxtel commissions. 
The basic problem is still audience scale. Most voters are watching the commercial FTAs and don't bother with that classy list of dramas. The difference in the popular and industry lists for drama categories is absolute and remarkable. They don't share anything. 
Here are the nominees to show comparative categories between the two voting systems: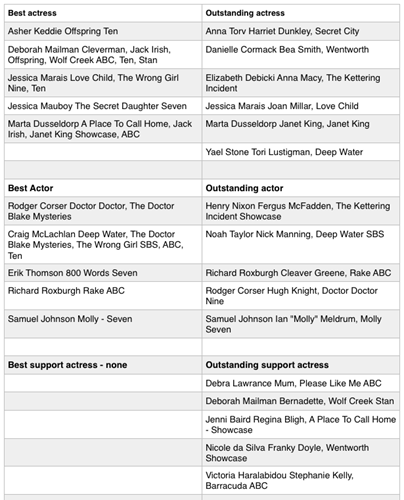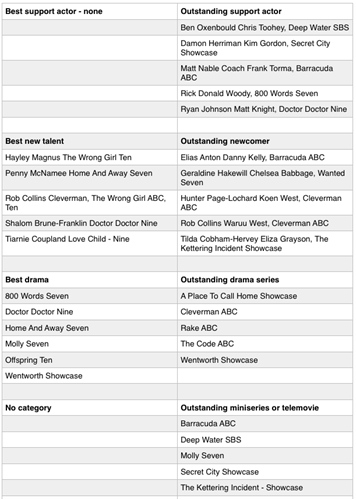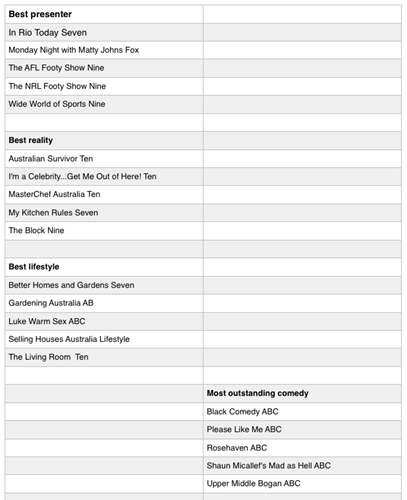 Source: http://www.artshub.com.au/news-article/features/television/david-tiley/logies-2017-two-nations-face-off-across-tv-divide-253463
BACK